Contours by Coco Reef Agate Ruffle Bandeau Bra Sized One Piece Swimsuit - Paradiso Mix
Lovely and flattering, the Contours by Coco Reef Agate Ruffle Bandeau One Piece Swimsuit features our Patented Shapemaker® Lining construction that smooths your curves and lifts your bottom to accentuate your figure. The sophisticated ruffled neckline combines with molded cups for a supportive and stylish slimming swimsuit option.
Ruffle Bandeau One Piece Swimsuit
Patented Shapemaker®Lining Smooths Your Curves
Molded Cups
Removable, Adjustable Strap
Available in cup sizes C, D
Swimsuit Fabric: 82% Nylon/18% Spandex
Shapemaker® Fabric: 70% Nylon/30% Spandex
Hand Wash Cold, Line Dry
Model Dimensions
Height: 5'8.5", Waist: 25", Hips: 37", Bra Size: 34C
Swimsuit Model is Wearing Size 8/32C
STYLE WITH
Features
Shapemaker® Lining
Dual layer construction, each swimsuit combines soft exterior fabrics with our state-of-the-art Shapemaker® lining that sculpts and smooths.
Tummy Control
Bra sized swimsuits designed with control panels around the core providing support where it's needed most.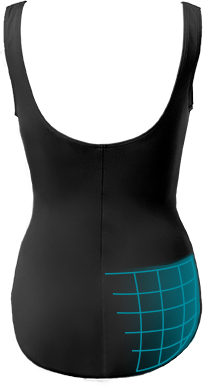 Shifts & Lifts
Bottom "Lifting Shaper" for a perky rear view. Target compression where it counts
Size Chart
| | | | | | | |
| --- | --- | --- | --- | --- | --- | --- |
| 32 C | 34 C | 36 C | 38 C | 40 C | 42 C | 44 C |
| 34.5 | 36 | 37.5 | 39 | 40.5 | 42 | 43.5 |
| 30 | 31.5 | 33 | 34.5 | 36 | 37.5 | 39 |
| | | | | | | |
| --- | --- | --- | --- | --- | --- | --- |
| 32 D | 34 D | 36 D | 38 D | 40 D | 42 D | 44 D |
| 36 | 37.5 | 39 | 40.5 | 42 | 43.5 | 45 |
| 30 | 31.5 | 33 | 34.5 | 36 | 37.5 | 39 |
| | | | | | | |
| --- | --- | --- | --- | --- | --- | --- |
| 32 DD | 34 DD | 36 DD | 38 DD | 40 DD | 42 DD | 44 DD |
| 37.5 | 39 | 40.5 | 42 | 43.5 | 45 | 46.5 |
| 30 | 31.5 | 33 | 34.5 | 36 | 37.5 | 39 |
| | | | | | | |
| --- | --- | --- | --- | --- | --- | --- |
| 32 E | 34 E | 36 E | 38 E | 40 E | 42 E | 44 E |
| 39 | 40.5 | 42 | 43.5 | 45 | 46.5 | 48 |
| 30 | 31.5 | 33 | 34.5 | 36 | 37.5 | 39 |
| | | | | | | |
| --- | --- | --- | --- | --- | --- | --- |
| 32 F | 34 F | 36 F | 38 F | 40 F | 42 F | 44 F |
| 40.5 | 42 | 43.5 | 45 | 46.5 | 48 | 49.5 |
| 30 | 31.5 | 33 | 34.5 | 36 | 37.5 | 39 |
| | | | | | | |
| --- | --- | --- | --- | --- | --- | --- |
| 32 G | 34 G | 36 G | 38 G | 40 G | 42 G | 44 G |
| 42 | 43.5 | 45 | 46.5 | 48 | 49.5 | 51 |
| 30 | 31.5 | 33 | 34.5 | 36 | 37.5 | 39 |
| | | | | | | |
| --- | --- | --- | --- | --- | --- | --- |
| XS/4 | S/6-8 | M/10 | L/12-14 | XL/16 | XXL/18 | XXXL/20 |
| 34 | 35 | 36.5 | 38.5 | 40.5 | 42.5 | 44.5 |
| 27 | 28 | 29.5 | 31.5 | 33.5 | 36 | 38 |
| 37.5 | 38.5 | 40 | 42 | 44 | 46 | 48 |
*All measurements are in inches
YOU MAY ALSO LIKE