Contours by Coco Reef Coralie Convertible Ruffle Bra Sized One Piece Swimsuit - Composition
Pack lightly with the help of the Contours by Coco Reef Coralie Convertible Ruffle One Piece Swimsuit that can be styled three different ways for versatile vacation style. This one piece is designed with a wireless bra frame that shapes and lifts, removable soft cups, and our Patented Shapemaker® Lining that smooths your curves and lifts your bottom to accentuate your figure.
Bra Sized One Piece Swimsuit
Patented Dual-Layer Shapemaker® Lining Smooths Your Curves
Convertible Ruffle Neckline
Wireless Bra Frame
Removable Soft Cups
Adjustable Straps
Available in cup sizes C and D
Luminous Satin Fabric Content : 87% Nylon/13% Spandex
Shapemaker® Lining: 60% Nylon/ 40% Spandex
Hand Wash Cold, Line Dry
Fabric is delicate, handle with care
Model Dimensions
Height: 5'7", Waist: 25", Hips: 38", Bust: 32"
Swimsuit Model is Wearing Size 8/32C
STYLE WITH
Features
Shapemaker® Lining
Dual layer construction, each swimsuit combines soft exterior fabrics with our state-of-the-art Shapemaker® lining that sculpts and smooths.
Tummy Control
Bra sized swimsuits designed with control panels around the core providing support where it's needed most.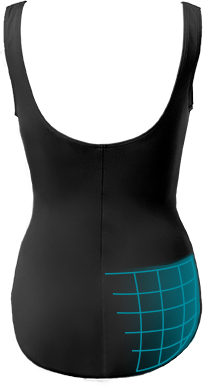 Shifts & Lifts
Bottom "Lifting Shaper" for a perky rear view. Target compression where it counts
Size Chart
| | | | | | | |
| --- | --- | --- | --- | --- | --- | --- |
| 32 C | 34 C | 36 C | 38 C | 40 C | 42 C | 44 C |
| 34.5 | 36 | 37.5 | 39 | 40.5 | 42 | 43.5 |
| 30 | 31.5 | 33 | 34.5 | 36 | 37.5 | 39 |
| | | | | | | |
| --- | --- | --- | --- | --- | --- | --- |
| 32 D | 34 D | 36 D | 38 D | 40 D | 42 D | 44 D |
| 36 | 37.5 | 39 | 40.5 | 42 | 43.5 | 45 |
| 30 | 31.5 | 33 | 34.5 | 36 | 37.5 | 39 |
| | | | | | | |
| --- | --- | --- | --- | --- | --- | --- |
| 32 DD | 34 DD | 36 DD | 38 DD | 40 DD | 42 DD | 44 DD |
| 37.5 | 39 | 40.5 | 42 | 43.5 | 45 | 46.5 |
| 30 | 31.5 | 33 | 34.5 | 36 | 37.5 | 39 |
| | | | | | | |
| --- | --- | --- | --- | --- | --- | --- |
| 32 E | 34 E | 36 E | 38 E | 40 E | 42 E | 44 E |
| 39 | 40.5 | 42 | 43.5 | 45 | 46.5 | 48 |
| 30 | 31.5 | 33 | 34.5 | 36 | 37.5 | 39 |
| | | | | | | |
| --- | --- | --- | --- | --- | --- | --- |
| 32 F | 34 F | 36 F | 38 F | 40 F | 42 F | 44 F |
| 40.5 | 42 | 43.5 | 45 | 46.5 | 48 | 49.5 |
| 30 | 31.5 | 33 | 34.5 | 36 | 37.5 | 39 |
| | | | | | | |
| --- | --- | --- | --- | --- | --- | --- |
| 32 G | 34 G | 36 G | 38 G | 40 G | 42 G | 44 G |
| 42 | 43.5 | 45 | 46.5 | 48 | 49.5 | 51 |
| 30 | 31.5 | 33 | 34.5 | 36 | 37.5 | 39 |
| | | | | | | |
| --- | --- | --- | --- | --- | --- | --- |
| XS/4 | S/6-8 | M/10 | L/12-14 | XL/16 | XXL/18 | XXXL/20 |
| 34 | 35 | 36.5 | 38.5 | 40.5 | 42.5 | 44.5 |
| 27 | 28 | 29.5 | 31.5 | 33.5 | 36 | 38 |
| 37.5 | 38.5 | 40 | 42 | 44 | 46 | 48 |
*All measurements are in inches
YOU MAY ALSO LIKE